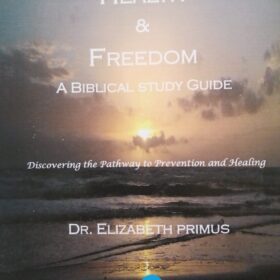 IN HEALTH AND FREEDOM CONFERENCE
The battle for life is indeed raging in the world today!  We hear and read in the news of the unceasing murders, road deaths, suicide, rape, physical and sexual abuse and other heinous crimes that show that respect for the value of life and love have been waning rapidly. The high rate of absentee fathers in homes and the lack of godly love and headship of a father have contributed among other factors, to these problems. Chronic disease is on the rise. There are spiritual forces at work behind all of these issues and the battle is not against flesh and blood but against principalities and powers, and spiritual wickedness in high places.  
The In Health and Freedom Conference provides a Biblical insight into the spiritual dynamics that affect our health and many aspects of life, love and relationships and issues that plague our nation.  It will also provide insight into how the way we think can affect our bodies to bring on disease, and the role of the spirit, soul and body connection in mental and physical disease. 
Dr Elizabeth Primus
B.SC., M. Phil., M.B.B.S., D.A., D.C.T.C.
Image of Front Cover of Study Guide here:
Through this  Conference, you will understand:
The Biblical Basis of Disease
The Spirit, Soul & Body Connection in Disease
How Stress Can Lead to Disease
The Relationship Between Life Traumas & Disease
How Life Traumas allow in Strongholds of Thought and Toxic Emotions that lead to Disease and Damage Our Relationships
Who Am I In Christ Jesus?
A Pathway to Healing and Walking out Your Healing
Receive Deliverance from these Toxic Strongholds of Thought
Receive Prayer for Healing
Online Conference May 24 to May 29, 2021, Monday to Friday 6:00 p.m. to 8:30 p.m.
Cost: Early Bird $550 TT or $80 US before May 14, 2021. Cost $650 TT or $100 US after May 14, 2021.
Complete Registration Form here and pay for course here.
You may also make an online or in person deposit for Elizabeth Primus to the RBC Chequing Account No. 100081051987858, St. Augustine Branch. Email a photo of the receipt for payment to Inhealthandfreedom@gmail.com or send to me at What's App 1-868- 380-5243.  
For further info call or What's App 1-868-380-5243 or message me on the In Health and Freedom Facebook Page.
Live Conference:
Monday to Friday 7:00 p.m. to 9:30 p.m.
Next Conference date is not yet scheduled.
Conference Recordings: Cost $65 US or $450 TT. (By order)
Email: inhelathandfreedom@gmail.com to place an order.
TESTIMONIES
"Having had cancer a few years ago, the In Health and Freedom conference and study guide were a real eye opener for me, especially with the roots of disease. I was able to identify exactly how much bitterness I was harboring, and came to understand that condemnation and misunderstanding of the love of the Father were issues I had to address.  I now have better understanding of the roots of negative thoughts and the spirits attached to them, and how to pull them down and cast them out in the name of Jesus.  I am in a better place spiritually and my body is not only cancer free but tests have shown even better CA levels."  RG.
 "Through the teaching of In Health and Freedom, my eyes were opened as to how spiritual problems can manifest as a physical disease. I was amazed to see how many diseases were rooted in stress coming out of fear. Since I was a baby, I suffered with chronic sinusitis and took every imaginable medication, and nothing helped the allergy. I thought it was just my cross to bear. I did not know I was living a lie. I realized that my chronic sinusitis was rooted in fear. I started to renounce the spirit of fear, then read the Word and spoke scripture over my life, and over time the sinusitis reduced significantly and I do not have it every day. I am no longer allergic to Sahara dust and God showed me that He can heal anything. This ministry has allowed the deep and hidden things to be exposed so I can experience healing." AC,